Där spårvagnen vänder.
En studie om Göteborgs-Postens rapportering av stadsdelen Angered över tid.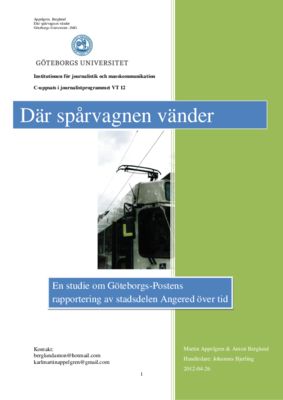 Göteborgs-Posten reaches out daily to approximately 630 000 readers or visitors through its newspaper or other channels. Since they are the biggest news media in Gothenburg, we consider it fair to say that they have a certain obligation to cover all the geographical parts of the city. As GP readers ourselves it is not that hard to state that the coverage in fact is insufficient, with a focus on the central parts and a sparse picture of the suburbs. Although a considerable part of the inhabitants lives in a suburb,
Martin Appelgren,Anton Berglund
Journalist, Journalistikgranskning , vt12
Om arbetet finns tillgängligt som pdf är löpnumret klickbart. Om arbetet inte är tillgängligt som pdf kan du vända dig till
JMG:s expedition
, så kan du få hjälp med en papperskopia.