"Därför ska du klicka här"
En kvantitativ analys av pushnotisers innehåll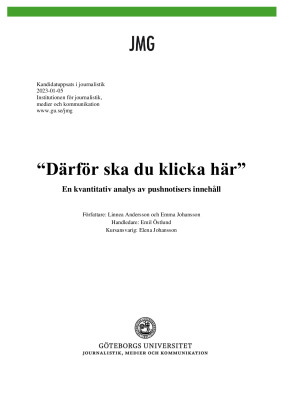 Abstract
Title: This is why you should click here
Authors: Linnea Andersson and Emma Johansson
Level: Bachelor thesis in Journalism
Term: HT 2022
Supervisor: Emil Östlund
The aim of this thesis is to investigate what characterizes the content of push notifications. More specifically, the study examines what defines push notifications, the tone of the notifications, and how the content differs between public service and commercial media.
The study's framework is based on theories surrounding news selection and commercialization. The results are also analyzed through previous research on forwardreferencing headlines, news selection by different media types, as well as the frequency of conflicts, individualization, and emotionally charged words.
The thesis is based on a quantitative analysis conducted over the course of one week, from November 22, 2022 to November 29, 2022. The basis of the study is the eight most popular news apps in Play Store and App Store. These are Aftonbladet, Dagens Nyheter, Expressen, Göteborgs-Posten, Svenska Dagbladet, Sveriges Radio Play, SVT Nyheter, and TV4 Nyheterna. In total, 892 push notifications were collected.
The results show that interesting news subjects such as sports and crime/law far outweigh important news such as politics and economy in push notifications. Public service media tend to report more informative news. In a similar fashion, famous people (profiles in culture or sports) appear considerably more often than important people (politicians or other people of power). Evening newspapers have a higher share of famous people than other media types, and report more breaking news. However, general news updates were far more common than breaking news notifications.
Within all types of media, negative news is the most common. Push notifications often contain emotionally charged words, particularly negative ones. A large majority of the notifications do not portray any conflict. However, the results divided by subject area show that conflicts are most common in political journalism. A large majority also do not contain forward-referencing headlines, but the results indicate that this type of headline is more often used in exclusive news and in content locked behind a paywall.
Key words: Push notifications, news application, digitalization, news selection, commercialization, news media, public service, commercial media
Linnea Andersson, Emma Johansson
Journalist, Journalistikgranskning , ht22
Om arbetet finns tillgängligt som pdf är löpnumret klickbart. Om arbetet inte är tillgängligt som pdf kan du vända dig till
JMG:s expedition
, så kan du få hjälp med en papperskopia.