"Det här är ett plagiat"
En studie av Sportbladets rewrites och hur de förhåller sig till upphovsrättslagen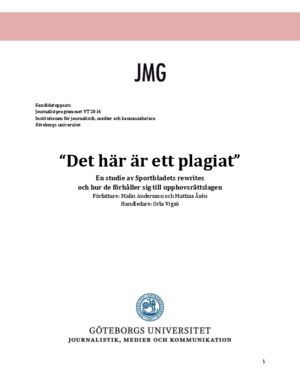 Authors: Malin Andersson & Mattias Åsén Titel: "Det här är ett plagiat" Level: Bachelor of Journalism Location: University of Gothenburg Language: Swedish Number of pages: 44 (without appendix) Sportbladet is Sweden's biggest sports newspaper online. Their audience, as for all online newspaper's audience, has big expectations of a steady flow of news. The economic conditions of journalism, together with the interests from the owners, may force newspapers to produce large quantities of news for cheap costs. One way to achieve this is to take other media's news and write them in your own words, so-called "rewrites". The purpose of this study is to investigate how Sportbladet relates to copyright laws when they rewrite articles online. To answer this question we begin with a quantitative content analysis and continue with a qualitative text analysis. Our quantitative results show that 34% of all articles in a week were rewrites. We found that most articles use three or four "stolen" quotes, but that 29 of 115 articles use more than five stolen quotes. We also found that 18% of the articles use a stolen quote in the heading, subheading and the lead. Furthermore did our qualitative results show us that it is highly likely that some of Sportbladet's articles are breaking the copyright law. We've had the copyright law and previous convicted cases as a base for our analyses and have seen that all of our three examples have a lot of similarities to the previous convicted case we have compared to. Two out of three examples also show to lack an own contribution to the text. They have almost identical disposition to the original text and they use some words from the original text in a way that could be nothing else but imitation. To have a law that few care about and that do not have consequences must be considered a problem. The question is what the reason behind this behavior is? And why is no one being convicted? What will the future bring? In this essay, we discuss this according to theories about economy, digitalization and commercialization. To our help, we have an interview with Aftonbladet's publisher Jan Helin and a discussion in a podcast episode with Jan Helin and Expressen's editor in chief Thomas Mattsson.
Malin Andersson, Mattias Åsén
Journalist, Journalistikgranskning , vt14
Om arbetet finns tillgängligt som pdf är löpnumret klickbart. Om arbetet inte är tillgängligt som pdf kan du vända dig till
JMG:s expedition
, så kan du få hjälp med en papperskopia.