FÖRFÖRISKA ALGORITMER OCH FRÅNSTÖTANDE NYHETER
En kvalitativ intervjustudie om hur män och kvinnor i
tjugoårsåldern känner kring sin medieanvändning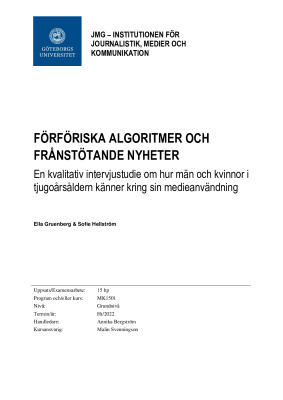 Executive summary
In 2021, Swedish people in the age group 15-24 spent almost eight hours a day on some kind of media, making them the predominant media users in the country. However, this age group and their media use has been somewhat overlooked in research over the last decade.
Establishing what kind of media is being used and how often seems to be the main focus in earlier studies when it comes to this age group, leading to a lack of research that aims to discover how this age group evaluate and feel about their media use. The same research gap
seems to apply to gender differences; although previous research has looked at differences between the sexes regarding media use, factors such as feelings and emotions are often missing. We believe, in accordance with our theoretical framework, that there should be more
attention drawn to these psychological experiences of media use, in order to further discover this contemporary social phenomenon.
Research on why people use media, and how the media can be used to fulfill different needs, has been established through the theory of Uses and gratifications, which works as a foundation for this paper. In this study we also relied on research which identifies different
moral aspects of media use, why and how modern media users limit their usage of digital media and differences between media generations.
The purpose of this study was to examine how men and women in their twenties motivate and value their media use and which emotions navigate towards, are evoked, and managed by certain media, usage of media or media content. In order to capture different aspects of this
subject, we divided the purpose into three different questions, of which were designed to discover the following: which media, media use or media content that in some way were considered as "bad" or "good", how specific emotions change the perceptions and utilization
of the media, and lastly, if there were any differences between how the male and the female respondents negotiated and felt about their media use. To explore this, we conducted ten qualitative interviews with men and women in their twenties. We have chosen a qualitative
method through interviews since interviews are the best way to let the respondent describe their thoughts, values, and habits about what is being investigated. This also aligns with the purpose of the study which is to gain clarity on how people in their twenties reason and feel
about their media choices and media use.
Our results show that the interviewees defined "good" or "valuable" media use as media ormedia content that teaches you something, makes you emotionally engaged and/or allows you to be active, social and productive. For example, the interviewees would talk about podcasts, high quality movies and books. When asked about media use they in some way considered as "bad" or "shameful", on the other hand, the interviewees answered rather cohesively. Social media such as Tiktok and Instagram, were predominantly seen as causes for negative emotions and experiences including stress and comparison with others, but also as a time-thief and an enabler of addiction to meaningless content.
When looking into how emotions impact the motivation to use certain media, we found that feelings, emotions or moods often affected which media content the interviewees turned to. For instance, our interviewees had a complicated relationship with the news, which they
associated with guilt and responsibility due to the often negative nature of the content. In this context, we also found that emotions, particularly anger and sadness, were reinforced through music, but diverted through other kinds of media use such as TV shows or social media feeds.
Contrary to our expectations, we merely found minor differences between which media the male and female respondents used and how they contemplated their media usage. However, we did find that the male interviewees were gaming a lot more than the female interviewees, and that there were many motivations behind this media usage. There was also a difference in how the male and female respondents reasoned when it came to feelings of loneliness. We
found that the female respondents turned to media that reminded them of social interaction when managing loneliness, such as listening to podcasts or seeing what their friends were up to on social media. The male respondents, on the other hand, turned to media in the hopes of being distracted from the feelings of loneliness, for example by watching movies alone. Our female respondents also described more feelings of guilt and shame in relation to their media use, and a feeling that they had to "earn" the time they spend on entertainment media. This was not a common perception among our male respondents, who seemed to have an easier time indulging in entertaining media content.
Based on the few discoveries we found that separated the genders, we draw the conclusion
that age, rather than gender, seems to have had a greater impact on how different kinds of
media and media content were valued and motivated based on feelings and emotions.
Ella Gruenberg, Sofie Hellström
MKV, Examensarbete , ht22
Om arbetet finns tillgängligt som pdf är löpnumret klickbart. Om arbetet inte är tillgängligt som pdf kan du vända dig till
JMG:s expedition
, så kan du få hjälp med en papperskopia.