FRAMING VACCINES IN THE MEDIA
FRAMING VACCINES IN THE MEDIA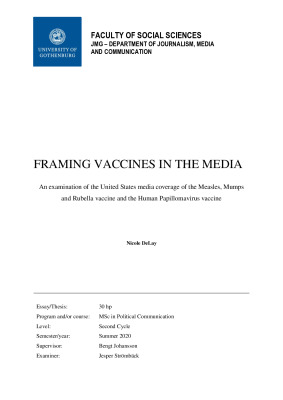 This study examined the media coverage in two different online media outlets, the New York Times and Fox News, in their reporting on two different vaccines, the Human Papillomavirus (HPV) and the measles, mumps and rubella (MMR) vaccine. Using a comprehensive understanding of framing theory and qualitative content analysis to uncover media frames, it examined the media coverage of these two public health interventions during two different periods. Coverage of the HPV vaccine was examined during a period of relatively low political and media attention. The coverage of the MMR vaccine was examined during a period of relatively high public, political and media attention connected to the recent measles outbreaks in the United States. Findings from the sample of media coverage demonstrated that scientific frames dominated the coverage of the HPV vaccine, and that the MMR vaccine was framed in terms of political conflict and competing interests. The framing of the MMR vaccine also portrayed the anti-vaccination movement as a disruptive force in society. Finally, a typology of frames was presented for future research to build on.
An examination of the United States media coverage of the Measles, Mumps and Rubella vaccine and the Human Papillomavirus vaccine
MKV, Masteruppsats , vt20
Om arbetet finns tillgängligt som pdf är löpnumret klickbart. Om arbetet inte är tillgängligt som pdf kan du vända dig till
JMG:s expedition
, så kan du få hjälp med en papperskopia.