KRISEN OCH OPINIONEN
EN JÄMFÖRANDE STUDIE AV SVENSKA LEDARSIDOR UNDER TRE
KRISER SOM FORMAT 2000-TALET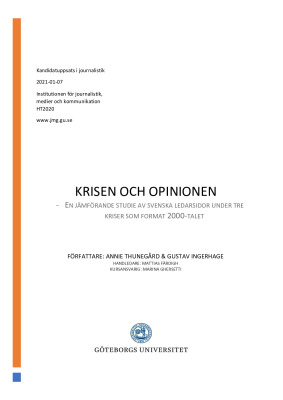 Our aim with this scientific study is to investigate how the editorial writers in Sweden
position themselves, in relation to the governing power during times of crisis. We hope
with this study to shine light upon the role of editorial writers as it is today, as it is during
crisis, and might be in the future.
In consideration of the fact that Swedish editorials does indeed have a political inclination,
it is interesting and relevant to investigate whether they do possess the ability to criticize
the leaders of society or those with power. Even though the editorial agrees with them on
a political level.
Our study will seek to find the answer to the hypothesis that, the majority of editorial
writers are critical to the governing powers during times of crisis.
To put our research into a greater context, we have chosen a theoretical framework
consisting of earlier research in a variety of fields. The existing definition of what an
editorial writer is and the role that they have in a democratic society, the changing world
of media and their part in crisis journalism. All of this with the agenda setting theory and
the rally round the flag effect in mind.
In our research we have chosen to use two methods, a quantitative method, and
qualitative method. This to investigate five different editorials in five different newspapers
during three different times of crisis.
Our results show that the majority of editorials are critical towards the governing power
during times of crisis, there by confirming our hypothesis. It also shows that political
inclinations do effect to which degree an editorial of the same political colour as the
governing party criticizes the power. However, it does not stop them from doing so. With
this result we can also confirm and enhance the editorial writer's role in crisis journalism.
ANNIE THUNEGÅRD & GUSTAV INGERHAGE
Journalist, Journalistikgranskning , ht20
Om arbetet finns tillgängligt som pdf är löpnumret klickbart. Om arbetet inte är tillgängligt som pdf kan du vända dig till
JMG:s expedition
, så kan du få hjälp med en papperskopia.