News in Social media
Social media: the newspaper of the future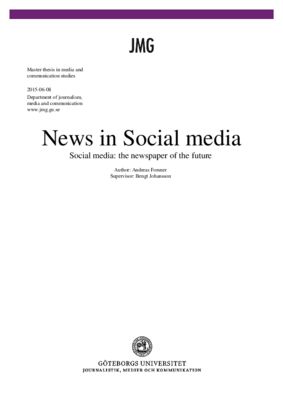 Abstract This essay examines the relationship between social media use and online news consumption. The relationship and the mechanisms of online news consumption are further examined with political interest and social media use motivations. The study is conducted using survey data from the 2013 SOM-survey from the SOM-institute. The results show a positive relationship between social media use and online news consumption that cannot be explained by interest in traditional printed or broadcast news media or political interest. However, there is an interaction effect of political interest that strengthens the effect of social media use on online news consumption. The study also shows that people using social media more actively, with the motive to participate in discussions, share articles or express their opinions are more inclined to consume online news. The results give a deeper understanding to the mechanisms of online news consumption in the digital media environment and show that social media can contribute to news consumption. Scholars argue that there is an increasing polarization between news-seekers and news-avoiders and this study suggest that social media can help getting news avoiders exposed to online news. However, the positive effect of social media on online news consumption is stronger among the politically interested and those engaged in discussions, information sharing and express their opinions. It creates even more possibilities to engage in news for those being already in the game.
Andreas Forsner
MKV, MKV-Magisteruppsats , vt15
Om arbetet finns tillgängligt som pdf är löpnumret klickbart. Om arbetet inte är tillgängligt som pdf kan du vända dig till
JMG:s expedition
, så kan du få hjälp med en papperskopia.