"OM DU VILL UPPLEVA ÄKTA KÄRLEK & FÅ DITT HJÄRTA KROSSAT"
En tematisk innehållsanalys av den svenska BookTok-gemenskapen på det
sociala mediet TikTok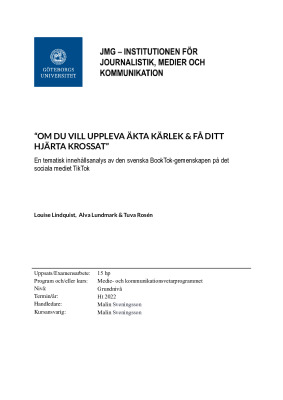 Executive summary
Today Swedish youth are increasingly spending more time on social media meanwhile the degree of book reading is decreasing. This development has led to negative consequences like inferior performance amongst Swedish students. Campaigns to promote reading have been put to action by educational institutions and other authorities without much success. Youth seem to connote book reading with schoolwork and it is seen as an activity rewarded by adults. It is
therefore possible that campaigns created by youth themselves might be more effective, and a phenomenon that can be seen as such a campaign is BookTok.
BookTok is a digital community centered around books and book reading that sprung to life on the social media TikTok in the year of 2020. TikTok has grown continuously since its launch in 2018 and it can for sure be said to play an important role in today's media landscape. The platform provides users with the opportunity to record, edit, share and consume short videos, and the content that reaches the user is heavily ruled by algorithms. The content mainly reaches the user through the platforms For You Page (FYP) which consists of an endless flow of personalized videos. When it comes to Swedish TikTok users
the main group are adolescents and young adults born in the decade of 2000.
Reading is of great importance for adolescents' cognitive developments and it can also be seen as enriching through a cultural perspective. We therefore believe that it is of importance to research new ways through which book reading can be promoted amongst adolescents.
Further, it is of high relevance for media- and communication studies to research new media technology and its effects on users' consumption and habits, as well as how new media can replace others.
Earlier research about BookTok and digital book-communities in general state that an important aspect of the phenomenon is its social functions, and BookTok can be seen as a social venue where individuals interact through a shared interest. Earlier research also emphasized that individuals, through participation in the BookTok-community, can create their own BookTok-identities. We feel that the existing research lacks a deeper analysis of how BookTok functions as a breeding ground for a sense of community and creation of the identity amongst adolescents. Furthermore, none of the studies were performed in a Swedish or even European context. The aim of this study is therefore to research BookTok through a Swedish context in order to understand how it, as a community, contributes to promote and portray book reading as attractive among Swedish youth. Our hope is that the study will help broaden the knowledge about digital communities mediated through social media, and the following research questions were created based on the purpose of the study: (1) Which type of content do Swedish BookTokers post?, (2) How does content posted by Swedish BookTokers portray book reading as attractive?, (3) How do the participants present themselves as BookTokers?, (4) How is the BookTok-community constructed and maintained?
Two theories were applied in order to answer the third and fourth research question: Performativity Theory and Social Worlds. The use of performativity theory was inspired by Dezuanni et al. (2021) who applies its framework in their research of digital book-communities. Dezuanni et al. (2021) suggests that performative actions constitute reader
identities and that individuals can position themselves through participation and sharing of content. Accordingly, Performativity Theory is applied in order to help us answer how users portray themselves as BookTokers. Social Worlds, on the other hand, is instead applied in
order to help us identify the actions that construct and maintain the community. The theory origins from Shibutani (1986) who describes that communities in modern society stem from shared interests rather than a shared geographic location, and these social worlds are
constituted by human relations and communicative actions.
Through the approach of a qualitative content analysis we are able to research and understand the content of a media text. We therefore chose to apply the method of thematic analysis, a flexible and adaptable qualitative method that is neither attached to a specific design nor
theory, and that can contribute with detailed and rich descriptions through identification and analysis of patterns and themes. The study was divided into two parts, a general thematization and an in-depth analysis of chosen aspects. A guide for the study's research process and a schedule for analysis was created in order to ensure that all writers based their interpretations on the same conditions. The general thematization was performed through an analysis of 120 videos collected from TikTok under the hashtag #swedishbooktok. After defining common themes in the content produced by Swedish BookTokers a closer analysis of how the content under each theme portrays book reading as attractive was performed. Lastly, the in-depth
analysis of two chosen themes was performed with the help of the theoretical framework and the schedule for analysis.
Five common and recurrent themes were found through the general thematization: recommendations, reading experiences, inviting content, textual content and dramatized content. The two most common themes were found to be recommendations and reading experiences. Content categorized as recommendations is made up of book recommendations
mediated through different formats like reviews and hauls. Content categorized as reading experiences is made up of portrayals of experiences related to books and reading, often communicated with a comical touch. Through analyzing how the content under each theme
contributes to portray book reading as attractive it became clear that a majority of the creators put in a lot of work when it comes to the aesthetic design of the content. The videos are consequently produced, often follow a distinct structure and the implementation of visual
elements like text, digital stickers and props create an aesthetically satisfying expression.
Recommendations and reading experiences were chosen to be researched further in the second part of the study, the in-depth analysis. The results of this analysis show a number of shared performative actions through which Swedish users present themselves as BookTokers. Physical books are shown, hashtags that include the word BookTok are used and a love for reading is expressed. Hashtags were also shown to play an important role for the community's
existence, since it is through them that participants are able to find each other. We also found a number of factors that construct and maintain the BookTok-community, for example content created by youth, appreciation of young adult literature, relatable content and appreciation of books' physical form.
The in-depth analysis allowed us to identify different BookTok identities, amongst them the feminine BookToker who positions themselves as feminine through including typically feminine features in their content. We also observed a strong majority of female participation,
which might stem from the fact that Swedish girls read more than boys in general. We also found that the feminine BookToker often discusses feelings a specific book might produce and how books have made an impact on their emotional life, which goes in line with earlier
research that indicates that many adolescents mainly connect with books through emotional response. Further we believe that BookTok promotes book reading as attractive in a more effective way than campaigns created by adults and institutions since it is created by youth
themselves and mediated in ways familiar to individuals that have grown up with social media. The community also works as a social venue where book reading is applied in a larger context. In line with earlier research we found that BookTok provide youth the opportunity to engage in book reading in ways that both include development of the identity and social interaction.
BookTok and digital book-communities in general are still relatively unexplored in the European context, which means that further research is required in order to make more general statements. To increase the understanding of adolescents' motives for participation in digital book-communities and book reading in general further research should focus on participants' and recipients' own experiences and perceptions of the BookTok-community. Another aspect we consider to be of interest to investigate further is that a strong majority of the community´s participants are women, this in order to gain more knowledge about how to increase the rate of book reading amongst young men. But also to research further how the community might work as a safe space for young women.
Louise Lindquist, Alva Lundmark, Tuva Rosén
MKV, Examensarbete , ht22
Om arbetet finns tillgängligt som pdf är löpnumret klickbart. Om arbetet inte är tillgängligt som pdf kan du vända dig till
JMG:s expedition
, så kan du få hjälp med en papperskopia.