På bänken
– En undersökning om damidrottens plats inom sportjournalistiken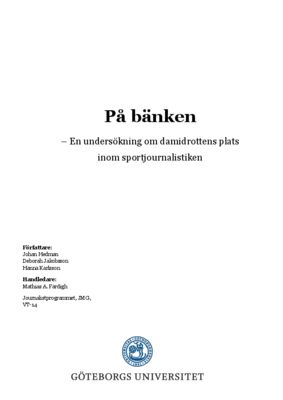 The world today is not an equal place. We see children starve, people being discriminated and women's rights being neglected. The media coverage of women's sports is no exception. In this study we have explored the difference between men's and women's media coverage in Swedish sports journalism. This has been done by using quantitative method together with interviews in order to define why the coverage is the way it is. Our theoretical points of departure are gender theories, identification theory and the news value theories gatekeeping and agenda setting. A central part of our study has been to analyze which factors determine how much space women's sports get in Swedish media today and if it's possible to change these. Our main research questions have been: – How is the space divided between men's sports and women's sports in SVT, TV4, Sportbladet and Sportexpressen? – Why is the space divided the way it is? We found that Swedish media covers women's sports much less than men's sports. In general, men's sports take 80 percent of the media coverage and women's sports take the remaining 20.The reasons for this could be the lack of female sport journalists, the economic interests of media and/or the overall public interest in women's sports. These factors depend on each other. Therefor we have come to the conclusion that we need more women in the sports journalism field in Sweden, both as reporters and on the executive posts to make sports and sports media coverage more equal.
Johan Hedman, Deborah Jakobsson, Hanna karlsson
Journalist, Journalistikgranskning , vt14
Om arbetet finns tillgängligt som pdf är löpnumret klickbart. Om arbetet inte är tillgängligt som pdf kan du vända dig till
JMG:s expedition
, så kan du få hjälp med en papperskopia.