Vem är kvinnan på kvinnodagen?
en kvalitativ analys av Gomorron Sverige på internationella kvinnodagen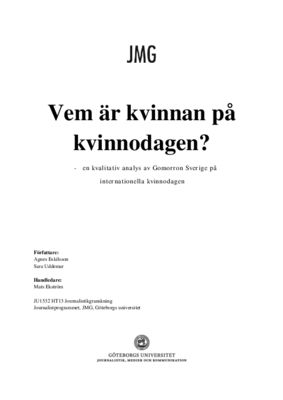 In this study we examine how the image of women, through framing and stereotyping in interviews, is constructed in the Swedish television morning show Gomorron Sverige on International Women's Day. Our study is based on qualitative method, using the ECA (Ethnographic Content Analysis) model. Our main theoretical assumptions are that media contributes to constructing the images of reality we see in our heads, and that the images of women mediated through television are stereotypes which are displayed in the presenter's questions and in the respondent's answers. By defining the problems related to International Women's Day, showing causal connections, making moral judgments and presenting solutions, television contributes to the viewer's perception of what is important, why it is important, what is wrong and how to make it right. Based on our theoretical assumptions we have divided our study into three analytical themes: 1. Topics – our framing analysis based study shows that the agenda of Gomorron Sverige is dependent on whether you speak of women as individuals or as part of a collective. When the woman is portrayed as an individual the common topics are success, equality, feminism and gender roles, whilst the agenda focuses on employment issues, equality, violence against women and international questions of women's rights when the woman is seen as part of a collective. 2. Stereotypes – our conversation analysis based study shows that the presenter's questions help maintain images of women and portray them in a stereotypical way. We use three labels to categorize different stereotypes used in Gomorron Sverige: the first woman, the woman as an outsider and the woman of reality. 3. Identity – through conversation analysis we were able to show that, even though the women had power, they were reluctant to accept their influence when introduced by the presenter as powerful women. Our conclusions are the following: When speaking of the women's collective, the woman is not present, but rather spoken of as a third person. When she is framed as an individual, however, she is present in the studio. Women who are successful in male-dominated areas have to distance themselves from their gender in order to fit within the male standard. The gender of the presenter is of great significance when it comes to the image of women mediated on the International Women's Day. The only shows with a female presenter are those which spend a majority of the air time talking about topics related to International Women's Day.
Agnes Eskilsson, Sara Uddemar
Journalist, Journalistikgranskning , ht13
Om arbetet finns tillgängligt som pdf är löpnumret klickbart. Om arbetet inte är tillgängligt som pdf kan du vända dig till
JMG:s expedition
, så kan du få hjälp med en papperskopia.