WHAT ARE KEY NARRATIVES IN PRO-RUSSIAN TELEGRAM CHANNELS DURING THE RUSSOUKRAINIAN WAR OF 2022?
Examining the spread of pro-Russian narratives and
Telegram's importance in the context of the Russian media
landscape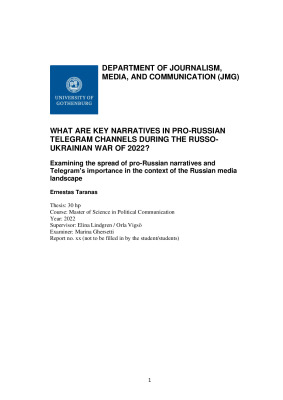 This study examines key narratives that are being spread on three pro-Russian Telegram channels with a significant following. Additionally, we examine Telegram's involvement in the spread of pro-Russian narratives as well as the intricacies of current Russian media landscape.
The aim of this study is to present readers with a comprehensive analysis of key narratives that dominate Telegram channels of three TV presenters that possess a significant level of influence in the Russian society and pose a threat to Europe's stability through the use of tools used in information warfare.
Results of our analysis show that when it comes to content of the messages observed we can clearly see that the overall sentiment of observed narratives is negative and can be interpreted as hostile. Narratives portraying Russia's offending army as liberators of the Ukrainian people and the defenders of Russian state from NATO are dominating Solovyov's, Simonyan's and Skabeeva's Telegram channels. Additionally, person-centred narratives have been observed involving Volodymyr Zelenskyy, president of Ukraine and Joe Biden, president of the United States of America.
Ernestas Taranas
MKV, Masteruppsats , vt22
Om arbetet finns tillgängligt som pdf är löpnumret klickbart. Om arbetet inte är tillgängligt som pdf kan du vända dig till
JMG:s expedition
, så kan du få hjälp med en papperskopia.