Allt om förlossningen, amningen, kärleken och karriären
En analys av mammarollen i personporträtt i tidskriften Mama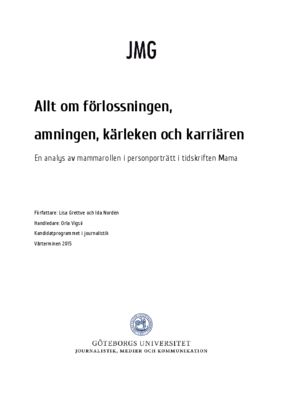 In this bachelor thesis in journalism studies we explore how the role of the mother is portrayed in the swedish magazine Mama. Mama is marketed towards women and is one of Sweden's most widespread magazines in the segment of children and parents. Every issue of this magazine includes a profile story portraying a famous mother. We have analysed twelve of these stories. With the method of qualitative textual analysis we have studied four areas of interest: the relationship between the mother and her career, the relationship between the mother and her children, the relationship between the mother and her partner and what part the journalist takes in creating the discourse surrounding motherhood in these portraits, regarding in what way questions are asked and what hidden premise that may shine through in remarks made by the journalist. Our main results include that most of the women are portrayed as a supermother, who can handle a very successful career whilst still taking the main responsibility at home. We can also conclude the norm of the conjugal family is still strong in our material. Furthermore the study shows that the journalists who have written the profile stories often take the role of a friend and entrusted both towards the interviewee and the magazine readers.
Lisa Grettve och Ida Nordén
Journalist, Journalistikgranskning , vt15
Om arbetet finns tillgängligt som pdf är löpnumret klickbart. Om arbetet inte är tillgängligt som pdf kan du vända dig till
JMG:s expedition
, så kan du få hjälp med en papperskopia.