Är sportsändningar – jämställda eller representativa?
En kvantitativ innehållsanalys av hur mycket tid manliga och kvinnliga idrottare får i sportsändningar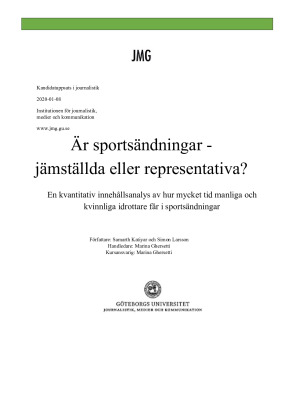 In the past, the reported research indicates that the reporting in the television medium, in the fields of sports, historically, has been dominated heavily by men, both as athletes and as journalists. In this way, television is creating a male norm and, therefore, it is important to measure the amount of time men and women receive in Swedish television (SVT) and TV4 sports news. The study explains how air time is divided between male and female athletes as well as which sports, male or female, get the most air time.
Moreover, this study, also, shows how much of the time respective sport receives. The sports are also categorized according to statistics from The National Sports Association (Riksidrottsförbundet) about the sports being masculine, feminine or neutral. In this way the study also shows the categories of sports that are given the most airtime. The theories that we have chosen for this study are ​news framing theory and gender theory. The reason is that they are relevant to answer the questions and explain why the broadcast time differs between male and female athletes.
To answer our questions we decided to use a quantitative content analysis. This method has been chosen because it is about to collect information and later answering the questions in the study. To analyse the sport news, a coding scheme was designed that had several different variables, including how long an athlete may be allowed to speak in order to get an answer to what the distribution looks like between male and female athletes.
The results show that male athletes get more air time than female athletes on both channels, despite the fact that Swedish television (SVT) has to be more equal in air time between gender. Moreover, the study indicates that male-dominated sports have more air time than female sports and is not representative according to the statistic from The National Sports Association (RF). Not even sports with gender equality has equal air time. In fact, female athletes dominated in these type of sports.
Samarth Katiyar och Simon Larsson
Journalist, Journalistikgranskning , ht19
Om arbetet finns tillgängligt som pdf är löpnumret klickbart. Om arbetet inte är tillgängligt som pdf kan du vända dig till
JMG:s expedition
, så kan du få hjälp med en papperskopia.