Avaaz Inclusive
A Case Study of a Representative of Global Civil Society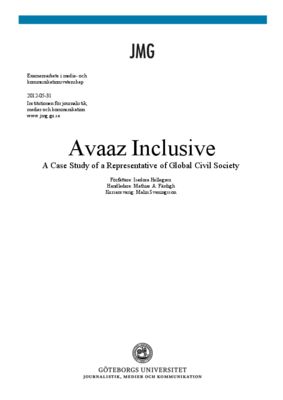 Title of Thesis: Avaaz Inclusive: A Case Study of a Representative of Global Civil Society Author: Isadora Hellegren Course: MK1500 Term: Spring 2013 Supervisor: Mathias A. Färdigh Number of Pages: 33 Number of Words: 12 618 Purpose of Study: This study intends to investigate what level of inclusiveness Avaaz offers its members in terms of accessibility of participatory features throughout its online platforms. By the application of a theoretical framework of political and communication theory, this thesis aims to define the democratic model most applicable to Avaaz, in regards to its displayed inclusiveness. Methodology: Case Study and Qualitative Web Content Analysis (Feature Analysis) Unit of Analysis: Avaaz Units of Observation: Avaaz Active Online Platforms Conclusion: After evaluation of the features offered online throughout Avaaz' platforms, Avaaz can be argued to be of a two-way asymmetrical participatory character as the communication remains unbalanced. There are elements of deliberative discussions although these are not sufficient to characterize the organization. There are also elements appearing closer to the one-way communication models.
Isacora Hellegren
MKV, Examensarbete , vt13
Om arbetet finns tillgängligt som pdf är löpnumret klickbart. Om arbetet inte är tillgängligt som pdf kan du vända dig till
JMG:s expedition
, så kan du få hjälp med en papperskopia.