Dömd på förhand?
En studie av traditionella och alternativa mediers personuppgiftspubliceringar i tre uppmärksammade kriminalfall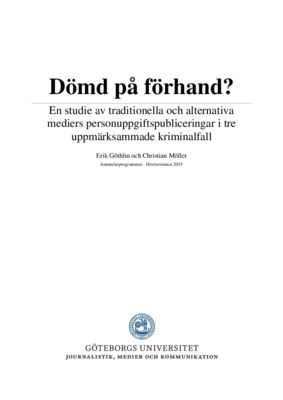 The purpose of this study is to analyze how the Swedish media publishes personal records in their coverage of three infamous murder cases in Sweden in 2015: the murder of Lisa Holm, the murders at Ikea in Västerås and the school attack in Trollhättan. The study also seeks to compare differences between alternative right wing media's and mainstream media's coverage of the cases. The results of the study will be compared to the Swedish rules of press ethics. The method in use will be content analysis, and the material will consist of articles in the Swedish daily newspapers Aftonbladet and Expressen, together with the right wing alternative news sites Avpixlat and Fria Tider. Articles that are published within the first month of the events. The main results showed that there are big differences between how the alternative and the mainstream media publishes personal records. The alternative media has for example published the name of the suspects in all three cases. They also have a bigger focus on ethnicity when writing about both suspects and victims. The alternative media have also broken more of the Swedish rules of press ethics, although the traditional media also has broken quite a few.
Erik Göthlin och Christian Möller
Journalist, Journalistikgranskning , vt15
Om arbetet finns tillgängligt som pdf är löpnumret klickbart. Om arbetet inte är tillgängligt som pdf kan du vända dig till
JMG:s expedition
, så kan du få hjälp med en papperskopia.