FACEBOOK IN THE NEWS
A mixed-method study of how Swedish public service news represent Facebook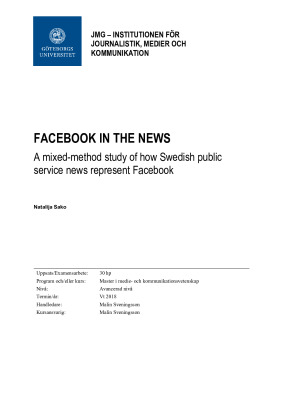 The aim of this study was to examine how Swedish public service media represents Facebook; a private, transnational company but also a tool for public service media (PSM) to reach its audience. The first research objective was to find out to what extent and in what way Facebook has been present in two of the biggest news programs in PSM, Rapport and Dagens eko, over the last ten years. The second research objective was to examine how the two programs represented Facebook in relation to the Cambridge analytica case.
The theoretical starting point for this study was social constructionism. Critical discourse analysis was the main methodological approach, mainly based on van Dijk's idea of socio-cognition. The analysis was conducted from a political economy perspective. For the first part of the study a quantitative content analysis was used to code every news story in Dagens eko and Rapport that mentioned the word Facebook, a total of 419 news stories. The content analysis focused on whether Facebook was the focus of the news, Facebook's agency and the context it was placed in. For the second part critical discourse analysis was used on 11 news stories during the reporting on the Cambridge analytica case.
The results from the content analysis showed that Facebook has been given increasing amount of space in the news stories, but that it was often not the focus of the news stories. Up until 2018 Facebook was mostly described as passive unless it was talked about as a company. The discourse analysis showed that Facebook is described as an infrastructure, but also that the discourse surrounding Facebook have elements of discourse of fear and entertainment. Finally, the results showed that the reporting bears evidence of neoliberal ideology which is manifested through individualization, marketization and depolitization.
Natalija Sako
MKV, Masteruppsats , vt18
Om arbetet finns tillgängligt som pdf är löpnumret klickbart. Om arbetet inte är tillgängligt som pdf kan du vända dig till
JMG:s expedition
, så kan du få hjälp med en papperskopia.