I en annan del av Göteborg
- om var våldsbrott begås i media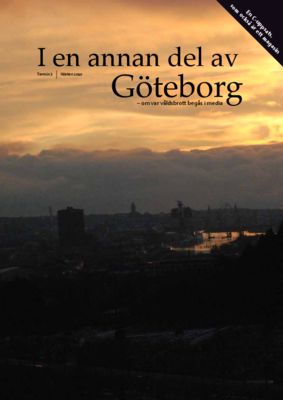 Another part of Gothenburg consists of a quantitative study of forensic journalism in Gothenburg. The survey was based on an audit of GP, GT, Metro, TV4 Göteborg, Västekot and Västnytt, and their reporting of violent crimes during 90 days in 2009. After seven weeks, it resultet in a magazine. The purpose of this study was to find the relationship between where violent crimes were committed and which of these were reported in the Gothenburg media. To answer this we began asking ourselves three questions that we in these weeks sought to answer. – How proportional is the reporting of violent crimes in relation to the violent crime statistics in Gothenburgs varied districts? – How do media portray violence in Gothenburgs districts? – Why does the violent reporting look the way it does?
Kajsa Lind,Alexander Piauger,Carl Moberg
Journalist, Journalistikgranskning , ht10
Om arbetet finns tillgängligt som pdf är löpnumret klickbart. Om arbetet inte är tillgängligt som pdf kan du vända dig till
JMG:s expedition
, så kan du få hjälp med en papperskopia.