Jättekliv eller tidsfördriv
- En studie i hur svenska journalister använder sociala medier som arbetsverktyg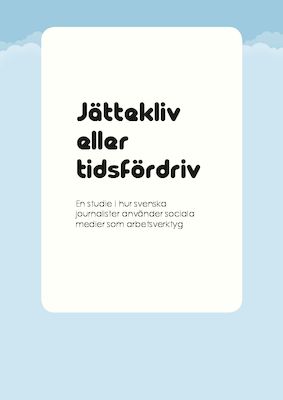 Over the last years social network sites have come to play a substantial role in many people´s lives. News reporting is happening in real-time through sites such as Facebook, Twitter and Youtube. The Internet has reconstructed how people communicate and keep themselves informed. A new media landscape is forming, in which journalists have to orientate.
Mira Hjort,Madelena Szabó,Signe Oskarsson
Journalist, Journalistikgranskning , vt11
Om arbetet finns tillgängligt som pdf är löpnumret klickbart. Om arbetet inte är tillgängligt som pdf kan du vända dig till
JMG:s expedition
, så kan du få hjälp med en papperskopia.