Mannen som satte skräck i en stad
- En studie om framställningen av Örebromannen i Aftonbladet & Nerikes Allehanda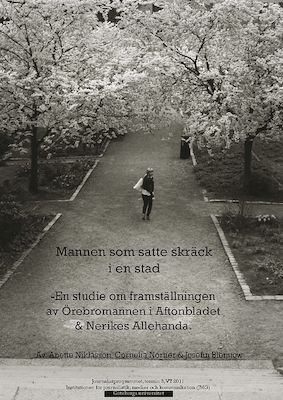 Purpose: In this study we aim to study how two newspapers – Nerikes Allehanda and Aftonbladet, have chosen to portrait Sweden´s worst serial rapist, Niklas Eliasson. We are interested in conceiving explanations as to why the reporting comes across the way it does. What consequences could it have? To be able to answer this, we intend to proceed from a series of fundamental questions: – What deliberations were taken into consideration, while writing the articles? – How do the journalists regard their articles and the portrayal of Niklas Eliasson? – Why was he portrayed the way he was? – How do the experts and police look upon the portrayal? – How is Niklas Eliasson portrayed in the media (in this case Aftonbladet and Nerikes Allehanda?) – Does the media´s portrayal have any stereotyping effects of the perpetrator?
Anette Niklasson,Cornelia Nortier,Josefin Blennow
Journalist, Journalistikgranskning , vt11
Om arbetet finns tillgängligt som pdf är löpnumret klickbart. Om arbetet inte är tillgängligt som pdf kan du vända dig till
JMG:s expedition
, så kan du få hjälp med en papperskopia.