"LÖFVEN" OCH "STATSMINISTER MAGDALENA ANDERSSON"
En jämförande studie av medierapporteringen kring två svenska statsministrar ur ett genusperspektiv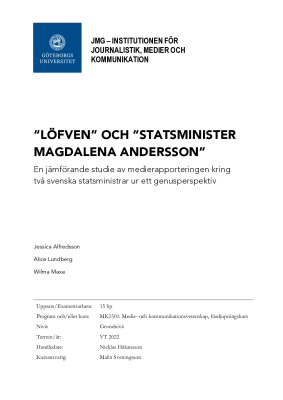 EXECUTIVE SUMMARY
Succeeding former prime minister Stefan Löfven, Magdalena Andersson became the first female to take on office by the end of 2021. The former and current prime minister both had widespread media coverage when assuming the position. The general understanding and views of politicians is formed by the picture painted by the media and its reporting. Traditional gender stereotypes have, through research, been shown to be present in media coverage. Men are associated with
concepts of power and leadership, women, to fondness and family. This leads to an outcome of male politicians more commonly being associated with political leadership than their female counterparts. Current studies show a shift to a more equal portrayal of female and male politicians, with gender stereotypical portrayal only accounting for a marginal part of the reporting. This could indicate Swedish news-reporting becoming more gender-neutral.
The purpose of this study is to compare the portrayal, within Swedish media, of a female versus male prime minister, from a perspective of gender. To succeed with this, the essay is based on three questions: To what extent, if any, does the visibility of Stefan Löfven and Magdalena
Andersson differ?; To what extent, if any, does the portrayal of Stefan Löfven and Magdalena Andersson differ in text?; and, To what extent, if any, does the portrayal of Stefan Löfven and Magdalena Andersson differ in pictures? A quantitative study of 412 published articles has been performed to answer these three questions. The articles have been gathered from leading Swedish newspapers; Aftonbladet, Expressen, Dagens Nyheter, and, Svenska Dagbladet.
This study will be applying theories from Gender science such as theories of gender, gender stereotypes, and role congruity.
In conclusion, the results indicate an occurrence of similarities and differences alike in the reporting of Löfven and Andersson. Löfven has generally received a larger coverage within news reporting and therefore increased visibility compared to Andersson, this is in line with
stereotypical portrayal of men and women. Portrayal within text shows tendencies of both confirming and opposing stereotypical portrayal. Andersson's gender pronoun is mentioned more often than Löfven's, whilst Löfven's character is more widely critiqued than Andersson.
The portrayal within pictures shows a majority of portrayals opposing traditional genderstereotypical reporting, with Löfven more commonly having inactive photographs and was photographed within the private sphere more than Andersson. It is important to point out, however, that most of the news reporting is neutral and that gender-stereotypical reporting occurs in only a marginalized part of the articles
Jessica Alfredsson, Alice Lundberg, Wilma Maxe
MKV, Examensarbete , vt22
Om arbetet finns tillgängligt som pdf är löpnumret klickbart. Om arbetet inte är tillgängligt som pdf kan du vända dig till
JMG:s expedition
, så kan du få hjälp med en papperskopia.