Navigating deepest, darkest Peru: A seven-week investigation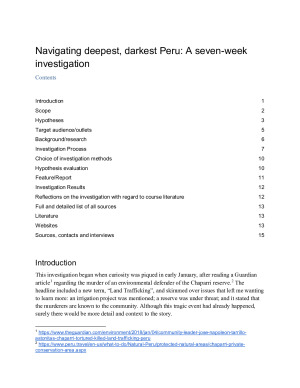 This investigation began when curiosity was piqued in early January, after reading a Guardian article regarding the murder of an environmental defender of the Chaparri reserve. The headline included a new term, "Land Trafficking", and skimmed over issues that left me wanting to learn more: an irrigation project was mentioned; a reserve was under threat; and it stated that the murderers are known to the community. Although this tragic event had already happened, surely there would be more detail and context to the story.
Thinking it possible to follow up on this article for the final project at MIJ, I contacted a few of the names mentioned in the Guardian piece – they replied quickly and furnished me with documents and unpublished details, the start of which was a research paper on "Land Trafficking" by the one of its authors, Noga Shanee (who would become my first contact in Peru), along with links to news, press releases and other useful contacts.
I kept contact with these sources over winter, and, recalling a tactic learned through previous projects, created a series of Google alerts to keep abreast of developments in news regarding the subject, region and murder investigation.
After learning that a fellow classmate had received a grant to help fund her final project abroad, I took the opportunity to apply for an MFS grant myself, receiving funding a few weeks later.
Rajmonda Rexhi and I had planned on teaming up for a project (still underway) involving an advanced level of Spanish – she is fluent in the language, and my competence level is low. In March, we decided to put our previous project on hold and, as the situation in Chaparri, we learned from sources, was increasing in intensity, we began to plan for the coming seven to eight weeks ahead.
Matthew Weaver, Rajmonda Rexhi
Journalist, MIJ-uppsats , vt18
Om arbetet finns tillgängligt som pdf är löpnumret klickbart. Om arbetet inte är tillgängligt som pdf kan du vända dig till
JMG:s expedition
, så kan du få hjälp med en papperskopia.