Pedofiler i pressen
Ett arbete om mediebilden av pedofiler och pedofili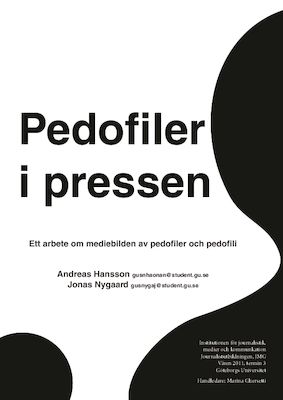 This study strives to describe and analyze how Swedish press portraits pedophiles and child molesters and what possible effect this image could have. It also seeks to show how this image compares to "reality". We have analyzed the four major newspapers in Sweden during the year 2010 and interviewed experts, journalists, victims, pedophiles and a news editor.
Andreas Hansson,Jonas Nygaard
Journalist, Journalistikgranskning , vt11
Om arbetet finns tillgängligt som pdf är löpnumret klickbart. Om arbetet inte är tillgängligt som pdf kan du vända dig till
JMG:s expedition
, så kan du få hjälp med en papperskopia.