Personen bakom pratminuset
- om intervjupersoners upplevelser av artiklarna de medverkar i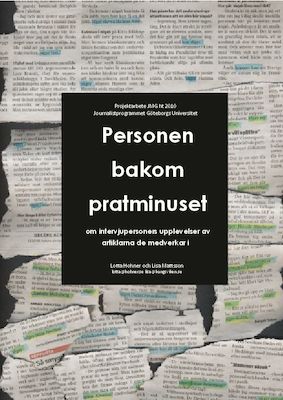 "The Person behind the Quote" Purpose: To investigate how the interviewees look upon their participation in three Swedish newspapers. Questions: Who is quoted in the news? Do the interviewees feel properly quoted linguistically and in terms of content? What is their confidence in the media and has it changed through participation? Using telephone surveys we have interviewed 83 people who were quoted in Dagens Nyheter (Sweden´s largest daily newspaper), Laholms Tidning (one of Sweden´s smallest daily newspapers) and Aftonbladet (Sweden´s largest evening paper). The surveys took place during five days in October 2010 (10/18 – 10/22). The questionnaires contained questions about the article that they had participated in.
Lotta Hohner,Mattsson Lisa
Journalist, Journalistikgranskning , ht10
Om arbetet finns tillgängligt som pdf är löpnumret klickbart. Om arbetet inte är tillgängligt som pdf kan du vända dig till
JMG:s expedition
, så kan du få hjälp med en papperskopia.