PORTRAYING COVID-19 VACCINES IN ALTERNATIVE MEDIA
A content analysis of the framing of COVID-19 vaccines in Swedish alternative news media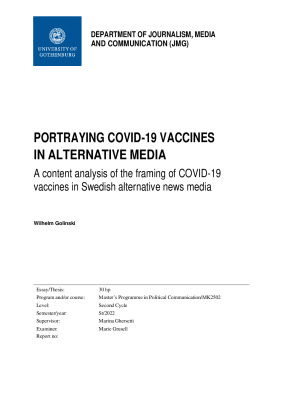 Purpose: The purpose of this thesis is to gain insights into alternative news media in crisis communication by addressing the news media portrayal of COVID-19 vaccines, inoculation campaigns and the implementation of vaccine mandates by alternative news media outlets in Sweden (Fria Tider and ETC/Dagens ETC). With an exploratory and comparative approach, the study's overall aim is to investigate how news regarding COVID-19 vaccines (including the vaccines themselves, vaccination campaigns, vaccine passports and mandates) has been portrayed in different Swedish alternative media outlets, and how this compares to traditional mainstream media. The relevance of the chosen research problem revolves around the changed preconditions of alternative media in today's media market and the function of the media as an information disseminator during crises.
Theory: Framing theory, alternative media anti-systemness matrix, issue attention cycle
Method: Quantitative content analysis
Result: The findings confirm that there are differences between the alternative news media outlets, also when compared against mainstream media, albeit the findings being indicative in nature. The differences concern the portrayal of actors with less praise, more criticism, and lower levels of neutrality. Alternative media were found to focus on the severity and threat to people's health, with a greater tendency to define the problem and possibly casting blame, as well as a greater focus on conflicts and alarming content in prominent positions of the news items examined. Additionally, a larger share 3 of emotion-evoking frames was found in the main text of the news items. Differences between the alternative news media outlets were also found in terms of thematic/episodic framing, focusing on actors on different levels, which could indicate different approaches towards responsibility attribution.
Wilhelm Golinski
MKV, Masteruppsats , vt22
Om arbetet finns tillgängligt som pdf är löpnumret klickbart. Om arbetet inte är tillgängligt som pdf kan du vända dig till
JMG:s expedition
, så kan du få hjälp med en papperskopia.