SPREADING THE MESSAGE?
Populism in German newspapers and their presentation of a populist party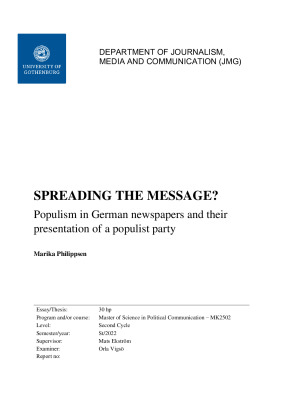 In academia, the concept of populism is a topic that is treated as frequently as it is controversially. In trying to grasp the concept, this study takes a two-parted approach as it is not only considering the concept in its entirety and examines the extent of its existence in German daily newspapers, but also how those newspapers deal with populist-minded politicians and parties. Through a theory-based breakdown of populism into its stylistic and ideological components as well as the additional consideration of the concept of media populism, which is closely related to populism, corresponding insights are gained. To this end, this study examines the con-tent of two national German daily newspapers, a tabloid (the BILD Zeitung) and one broadsheet newspaper (the Süddeutsche Zeitung), in three open ways, that allow for all possible outcomes: by means of a quantitative and two qualitative content analyses. Each of these analyses is characterised by different focal points and approaches to the concept of populism.
The findings allow the conclusion that both newspapers show clear populist characteristics, especially the stylistic aspect of populism stands out. In addition, it can be determined that the tabloid newspaper tends to show more populist traits than the broadsheet newspaper. A critical attitude towards populist German parties can be found in both newspapers, but here the broad-sheet dominates the tabloid. With reference to media populism, this study additionally establishes which role can be assigned to the two newspapers in the context of their reporting in a populist sense and how said reporting can ultimately be named for both.
Marika Philippsen
MKV, Masteruppsats , vt22
Om arbetet finns tillgängligt som pdf är löpnumret klickbart. Om arbetet inte är tillgängligt som pdf kan du vända dig till
JMG:s expedition
, så kan du få hjälp med en papperskopia.