Som alla andra?
En studie av hur svenska journalister vill bevaka Sverigedemokraterna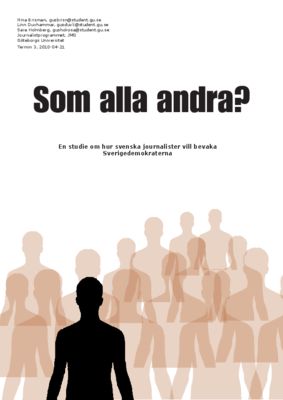 Purpose: To look closer into how Swedish journalists want to cover and report about Sverigedemokraterna, a right wing populistic party who are only a few steps away from entering the parliament. Method: A websurvey was sent out to 2168 tv-, radio- and newspaper journalists all over Sweden and also interviews with chief editors, journalists and experts.
Nina Brisman,Linn Duvhammar,Sara Holmberg
Journalist, Journalistikgranskning , vt10
Om arbetet finns tillgängligt som pdf är löpnumret klickbart. Om arbetet inte är tillgängligt som pdf kan du vända dig till
JMG:s expedition
, så kan du få hjälp med en papperskopia.