Communicating in unfamiliar territories
A qualitative study of developing a sustainable online communication strategy for UD Trucks in Asia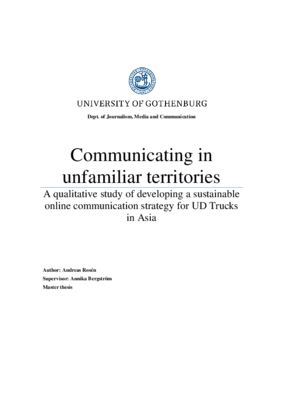 Title: Communicating in unfamiliar territories – A qualitative study of developing a sustainable online communication strategy for UD Trucks in Asia Author: Andreas Rosén 840301-5558 Semester: Spring 2011 Tutor: Annika Bergström Number of pages: 77 (six appendixes) Purpose: The purpose of this study is to create a sustainable online communication strategy Methodology: The methodology used in this thesis is qualitative and quantitative. Key words: Integrated market communication (IMC), B2B communication in Asia, social network sites (SNS) Key findings: In this thesis I have presented a suggestion how a Japanese truck brand should work online. My research indicates that there are some areas that need more attention than others. One of my key findings indicates that UD Trucks has working accordingly to a crisis communication theory from 1963. In order to change this I have suggested numerous steps that I believe are necessary to take and as a result, integrated market communication (IMC), should be utilized and acknowledged for all online marketing activities.
Andreas Rosén
MKV, Masteruppsats , vt11
Om arbetet finns tillgängligt som pdf är löpnumret klickbart. Om arbetet inte är tillgängligt som pdf kan du vända dig till
JMG:s expedition
, så kan du få hjälp med en papperskopia.