"Den här bilden är felstavad"
En kvalitativ studie av åsikter kring amatörbilder och professionella bilder i svenska nyhetsmedier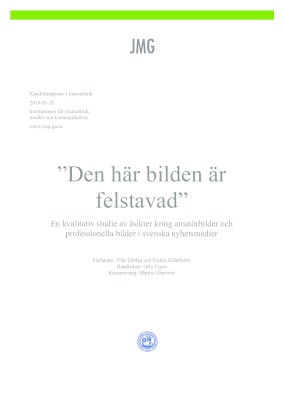 The main purpose of this study is to examine people's comprehension and interpretation of different kinds of pictures in Swedish news. More specific to study the possible differences that people might register between user-generated content – also referred to as amateur imagery – and professional news photography.
Theoretical framework: Our analysis is based on the theory regarding rhetoric within the field of imagery. We argue that images are able to create different meanings, tell stories and persuade its observers. Another theory we used is the framing theory which implies that all human beings interpret the world differently based on our previous experiences. In this case our interpretation of an image will always depend on the context in which it is presented to us.
Method: Qualitative in-depth interviews with five respondents presenting their own opinions about amateur images and professional images within Swedish news media. During the interviews the respondents were introduced to six different pictures. Half of the photos were taken by amateur photographers and half of them were taken by professional photographers. The respondents did not know whether they were presented to an amateur picture or to a professional picture.
Results: When presented to pictures taken by both amateurs and professional news photographers the respondents in this study rated the professional pictures as better than the amateur pictures. The reason why is because the professional news pictures were perceived as more informative and better able to tell a story because they generally had a higher level of technical quality. Pictures that seemed to lack these qualities were perceived as less trustworthy and not informative due to bad technical quality which made it difficult for the respondents to grasp the situation of the picture.
Amateur pictures and professional pictures were said to evoke similar feelings although amateur images could come across as more violent and chaotic. Therefore, amateur images were also said to be more suitable for being published in evening tabloids rather than in the daily broadsheet newspapers or public service media, if published at all.
Filip Ekblad och Emilia Söderholm
Journalist, Journalistikgranskning , vt19
Om arbetet finns tillgängligt som pdf är löpnumret klickbart. Om arbetet inte är tillgängligt som pdf kan du vända dig till
JMG:s expedition
, så kan du få hjälp med en papperskopia.