Drömplanen blev en mardröm
En studie om Framställningan av Norwegian och varumärkesexponering i svensk media under Boeing 787:s kris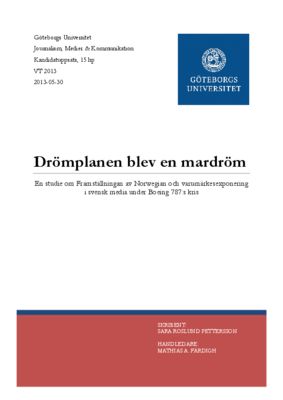 The aim of this study is to examine how the favourability and brand exposure of Norwegian has been damage by their supplier, Boeing 787:s, problems concerning the aircraft Dreamliner. The theoretical framework underlies the content analysis that has been used to operate the study. In total the empirical data rise up to 623 articles that has been collected and analysed from the media archive Retriever. Compares to before and after Boeing 787:s problem with the Dreamliner, the results indicates that the favourability of Norwegian in the Swedish media landscape during the problems was negatively affected. The results also show that there was no increase in brand exposure for Norwergian during the problems. Nevertheless a correlation was found between negative favourability and increased brand exposure.
Sara Rosenlund Pettersson
MKV, Examensarbete , vt13
Om arbetet finns tillgängligt som pdf är löpnumret klickbart. Om arbetet inte är tillgängligt som pdf kan du vända dig till
JMG:s expedition
, så kan du få hjälp med en papperskopia.