Great minds think alike
En kvantitativ studie av utrikessidornas innehåll i 36 tidningar inom Mittmedia, Gota Media, Bonnier och Stampen.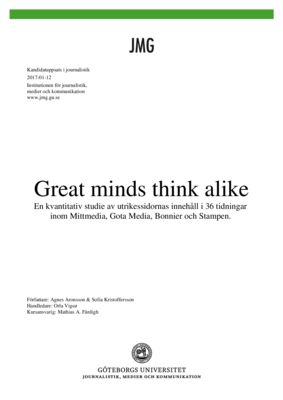 The purpose of this study was to investigate the news reported on the foreign pages of 36 newspapers owned by four of the largest media groups in Sweden; Mittmedia, Gota Media, Bonnier and Stampen. Our aim was to examine what the distribution looked like between the self-produced foreign material and the material that was produced by news agencies. We wanted to see if there was any homogenization of the foreign news material within or between the media groups. In addition, we wanted to discuss how the selection of foreign news might affect newspaper readers' interpretation of the world. The quantitative content analysis included 1392 articles that were published in the foreign pages during one randomized week in the autumn of 2016. The theoretical background of this study focuses primarily on gatekeeping and news values. We have applied these theories to understand and to analyze the results of the study.
The survey results show that the absolute majority of the material published in the foreign pages of the newspapers surveyed was produced by TT alone or by TT along with other news agencies. The homogenization of the material in the foreign pages analyzed proved to be substantial. The study showed that a majority of the material in the foreign pages reported of events occurring in Europe. News from Asia was also relatively common, while it was reported less on North America and Africa. Very little of the news included in the study focused on South America and no news at all focused on the Australian continent or Antarctica. 76% of the news from North America centered the United States, and the US was the nation that appeared most times and accounted for 10% of the total news flow in the foreign pages.
In addition, the study showed that negative charactered news occurred in the news flow to a greater extent than neutral and positive news did. Europe was the continent from which the least amount of negative charactered news was reported. Since TT accounts for a large portion of foreign reporting in the selected newspapers, it means that they might have quite considerable power to influence readers' international outlook.
Key words: news agency, gatekeeper, media group, foreign news, foreign Pages, homogeneity
Nyckelord: TT, nyhetsbyrå, mediekoncern, utrikesnyhet, utrikessidor, homogenitet, likriktning
Agnes Aronsson, Sofia Kristoffersson
Journalist, Journalistikgranskning , ht16
Om arbetet finns tillgängligt som pdf är löpnumret klickbart. Om arbetet inte är tillgängligt som pdf kan du vända dig till
JMG:s expedition
, så kan du få hjälp med en papperskopia.