I ALLMÄNHETENS INTRESSE?
- en jämförande studie av elva svenska och brittiska morgontidningars inställning till namn- och bildpublicering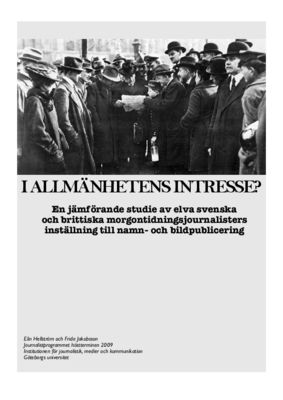 In the public interest? A comparative study of eleven Swedish and British newspaper journalists´attitudes regarding publication of names and photographs.
Elin Hellström,Frida Jakobsson
Journalist, Journalistikgranskning , ht09
Om arbetet finns tillgängligt som pdf är löpnumret klickbart. Om arbetet inte är tillgängligt som pdf kan du vända dig till
JMG:s expedition
, så kan du få hjälp med en papperskopia.