Journalistiken är nu i ett förhållande med Sociala Medier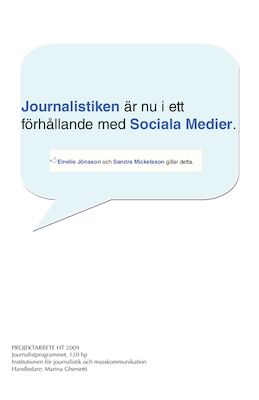 Journalism is now in a relationship with: Social Media To compare how Svenska Dagbladet in Stockholm, Sweden and StarLedger in New Jersey, USA use social media in their journalistic work. We also want to see how social media affects journalism. We used participation studies and interviews. When studying new phenomena, such as the development of social media, participation studies is a preferable method. Interviews further deepend our insight in the subject.
Jönsson, EmilieMickelsson, Sandra
Journalist, Journalistikgranskning , ht09
Om arbetet finns tillgängligt som pdf är löpnumret klickbart. Om arbetet inte är tillgängligt som pdf kan du vända dig till
JMG:s expedition
, så kan du få hjälp med en papperskopia.