Kommunikation i forskarbloggar
En motivationsstudie bland forskare vid Göteborgs universitet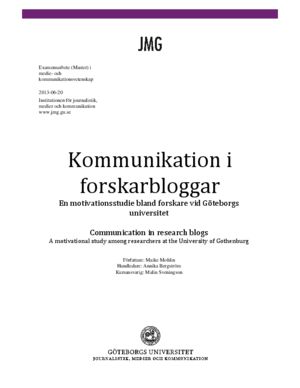 Title (Swedish) Kommunikation i forskarbloggar – En motivationsstudie bland forskare vid Göteborgs universitet Title (English) Communication in research blogs – A motivational study among researchers at the University of Gothenburg Author Maike Mohlin Tutor Annika Bergström Constituent Information department of the University of Gothenburg (Informationsenheten vid Göteborgs universitet) Course Master thesis in media and communications at the institution for journalism, media and communication at the University of Gothenburg Term Spring 2013 Pages/ word count 77/ 32211 words Objective To examine why researchers at the University of Gothenburg chose to blog in their role as a researcher Method Exploratory analysis of qualitative, semi-structured interviews Material Eleven interviews with blogging researchers from different fields at the University of Gothenburg, material gathered in spring 2012 Main results In the context of research communication blogs play an essential role for researchers for directly communicating with the public. A strong motivation for researchers to blog is that they can represent and create an image of themselves. Also the blog is used in several ways as a tool in the researchers' daily work. Despite the fact that there are disadvantages with blogging, the researchers in the study find that it brings along far more advantages than disadvantages, which is why they keep blogging.
Maike Mohlin
MKV, Masteruppsats , vt13
Om arbetet finns tillgängligt som pdf är löpnumret klickbart. Om arbetet inte är tillgängligt som pdf kan du vända dig till
JMG:s expedition
, så kan du få hjälp med en papperskopia.