"Nu är det slut på Stockholmsfixeringen"
En kvantitativ innehållsanalys av mediernas rapportering av regeringens beslut att flytta myndigheter från Stockholm.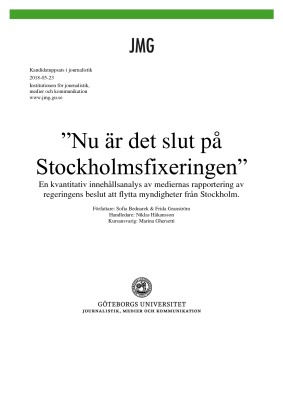 This bachelor thesis is an analytical quantitative content analysis of the media's reporting of the Swedish government's decision to move several authorities from Stockholm to other parts of the country. The main purpose of the study was to examine the media's approach and discourse in the articles, and to find out whether there is a norm, that the media is taking a Stockholm-point-of-view in the reporting.
Through collecting written articles by Swedish web-based news media concerning the relocation of governmental authorities between June 2016 and April 2018, in total 1129 articles, we can draw conclusions about what picture that met the public. We analysed the material after content and perspective as well as the articles valuation of the relocation. We could then discuss the reasons behind the results and how they affect the reader.
We find that most of the articles published are written by TT news agency. We also find many signs of a Stockholm norm in their reporting, writing from Stockholm with people from Stockholm being interviewed, using their point of views and values. The media in the areas to where a government authority was being moved did point out positive local aspects of the decisions, but also came with different criticism then national media. These local perspectives tend to not reach the rest of the country and most readers get a one-sided picture of the decision to relocate authorities. This picture is that the government does this to get closer to the citizens and stop the centralization to Stockholm, but that the relocation itself is problematic and painful for both the authority and the people working there and at the same time an expensive solution for the citizens. The reporting tends to stop there and not do a follow up in the city to where the authority was relocated. In the end this risk to create a distance between the centre/Stockholm and the periphery/rest of the country. A sense that there is an us- versus them, a difference between people and the way they see the world.
Sofia Bednarek & Frida Granström
Journalist, Journalistikgranskning , vt18
Om arbetet finns tillgängligt som pdf är löpnumret klickbart. Om arbetet inte är tillgängligt som pdf kan du vända dig till
JMG:s expedition
, så kan du få hjälp med en papperskopia.