Pengar vs Jämställdhet
En kvalitativ studie om varför urvalet av livesänd sport i Sverige ser ut som den gör.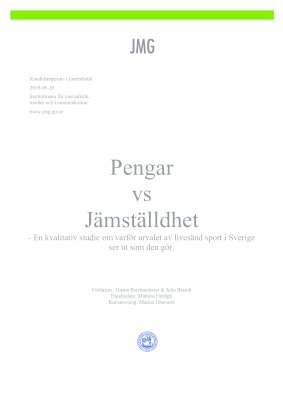 The aim of this study is to form an understanding over how media chooses what sport to broadcast and why male athletes dominate when it comes to live broadcasting of sports.
This study is made with a qualitative method. Through semi-structured interviews with the sport directive of two Swedish media companies, Discovery and TV4/Cmore, and with the rights manager for SVT Sport. Each interview was made individually.
The purpose of the interviews is to gain knowledge about how the selection process takes place when it comes to what sport to live broadcast, and why some sports get more TV-time and acknowledgement than others.
We have two media companies representing the commercial corporate market and also Swedish Television (SVT) which is financed by Swedish taxpayers. This gives the study at least two points of view when it comes to form an understanding of the selection process.
Theories about economy, what decides the content in the media, the audiences importance, news value, sport marketing and research about the difference on how women and men are displayed in media will be used as guidance to gain understanding to why the decisions that forms what sports we are able to watch on television and online are made. The theoretical framework also stands as a foundation for the constellation of the interview.
Results: The study shows that the number, or estimated number, of viewers for each broadcast has an impact on what sport that is to be broadcasted /which sports that is broadcasted on live television. It also has an effect on what advertisers the media companies can attract and how much each advertiser is willing to spend on a broadcast. Economy is therefore a factor when it comes to the selection of sport. Although the audience and viewers have a slight difference in meaning to the commercial media companies and to Swedish Television. It is confirmed that the number of viewers for a TV-broadcast is important for the media companies to get a sense of if what they broadcast is of relevance to the audience or not. Both when looking at it through a money perspective, but also in a competitive perspective
Hanna Bernhardsson & Julia Brandt
Journalist, Journalistikgranskning , vt19
Om arbetet finns tillgängligt som pdf är löpnumret klickbart. Om arbetet inte är tillgängligt som pdf kan du vända dig till
JMG:s expedition
, så kan du få hjälp med en papperskopia.