Prisoners of their own dream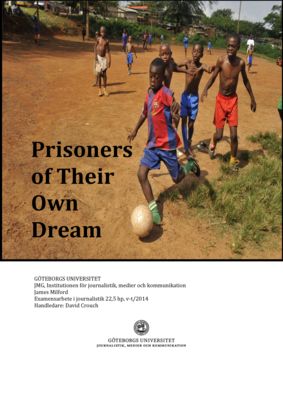 The trafficking of young African footballers is on the rise. Every year thousands of children make their way to Europe in the hope of becoming the next footballing superstar. Yet the majority of these players will end up on the streets of Europe's cities, abandoned by so-called agents who have promised so much and delivered so little. But what are the personal stories behind this illegal trade in humans?
I have carried out interviews with those who are directly connected to this international crime. I have spoken to Fabrice (not his real name) to find out first-hand what happens to a victim of trafficking and have interviewed Jean-Claude Mbvoumin, president of the anti-trafficking organisation Foot Solidaire, to see what is being done in the fight against the problem.
The football world also adds their opinions in interviews with BK Häcken's Sporting Director, Sonny Karlsson, and Swedish 'super-agent' Patrick Mörk, and world football's governing body FIFA outlines its position on the matter.
The outcome is a sometimes distressing insight into a side of world football that many are unaware exists, an ugly blemish on the beautiful game. The investigation uncovers that it is far from simply being a matter for football's executive committees, but one for governments and other international authorities, and proves the point that it is a problem that concerns us all.
James Milford
Journalist, Magisteruppsats , vt16
Om arbetet finns tillgängligt som pdf är löpnumret klickbart. Om arbetet inte är tillgängligt som pdf kan du vända dig till
JMG:s expedition
, så kan du få hjälp med en papperskopia.