Schibbye och Perssons Journey
en kvalitativ analys av Göteborgs-Postens bevakning av "Etiopiensvenskarna" ur ett dramaturgi-perspektiv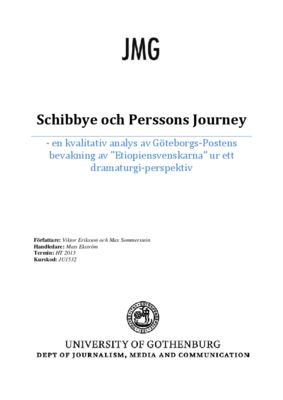 Title: Schibbye och Persson's Journey: a qualitative analysis of Göteborgs-Posten's coverage of "etiopiensvenskarna" from a narrative perspective. Authors: Viktor Eriksson and Max Sommerstein Subject: Undergraduate research paper in journalism studies, Dept. of journalism, media and communication (JMG) University of Gothenburg Term: Autumn 2013 Supervisor: Mats Ekström, JMG, Gothenburg University Pages: 35 Purpose: To examine how the narrative-model the hero's journey is represented within the Swedish newspaper Göteborgs-Posten's articles on Johan Persson and Martin Schibbye, two Swedish journalists who were imprisoned while conducting journalism in Ethiopia. Method: A combination of Ethnographic content analysis (ECA) and Compositional Interpretation (image-analysis). Procedure: A strategic selection of articles published in the supplement Skenprocessen i Addis Abeba, in Göteborgs-Posten. Results: The narrative model the hero's journey is clearly represented as cultural frames in Göteborgs-Posten's articles about Martin Schibbye and Johan Persson. The framing of the events are used to simplify the facts and to make them emotionally accessible. We have also determined that the steps of the model largely follow the same chronology in the articles as it does in the hero's journey. All in all, we have determined that journalism and myth has a closer relationship than one might think.
Viktor Eriksson och Max Sommerstein
Journalist, Journalistikgranskning , ht13
Om arbetet finns tillgängligt som pdf är löpnumret klickbart. Om arbetet inte är tillgängligt som pdf kan du vända dig till
JMG:s expedition
, så kan du få hjälp med en papperskopia.