Vem är det ideala mordoffret?
En kvantitativ jämförande analys av hur kvinnliga mordoffer gestaltas och prioriteras i kvällspress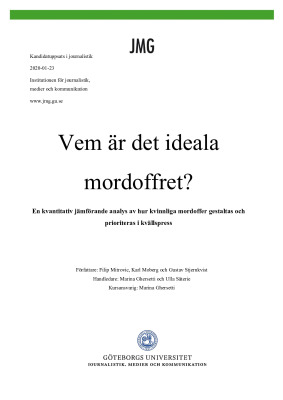 Aim of thesis: This study analyzes the difference in news framing and news selection of eight different cases of murdered women during the last ten years. Primarily we wanted to try to find a pattern between the women's personal aspects of age, ethnicity, and relationship to their murderer. The content we analyzed came from the two largest Swedish tabloid newspapers, Aftonbladet and Expressen (which included Kvällsposten and GT). The time span that we chose was three and a half months from the date the women were confirmed dead and their names was made public.
Theoretical framework: The framing of these were analyzed based on two different types of previous research. The Ideal Victim by Nils Christie (1986, 2001) and Det individuella brottet by Marie Demker and Göran Duus-Otterström (2011), who studied the theory of including framing.
Methods(s): We chose to use a quantitative analysis to make this study applicable to a larger amount of articles. We continue by breaking down our previously mentioned theories to be able to create an index of the articles and thereby try to distinguish differences between the cases.
Results: The results we found was that all these cases differentiate in both framing and news selection. Women of Swedish ethnicity got more attention than those of other ethnicity but were not presented with the same victim status or by an individually type of news framing.
Women who previously had a relationship with their murderer did not get as much coverage as those whose murderers were unknown to them, nor did they get the same type of victim status or including victim framing.
There were also patterns between the victims age and news selection. Younger women received more individual framing due to their relatives and/or friends being heard more than the older women, and they also appeared in more pictures in the articles.
Filip Mitrovic, Karl Moberg och Gustav Stjernkvist
Journalist, Journalistikgranskning , ht19
Om arbetet finns tillgängligt som pdf är löpnumret klickbart. Om arbetet inte är tillgängligt som pdf kan du vända dig till
JMG:s expedition
, så kan du få hjälp med en papperskopia.