Arbetare i kristider
En kvantitativ bildanalys av arbetares gestaltning under Saabkonkursen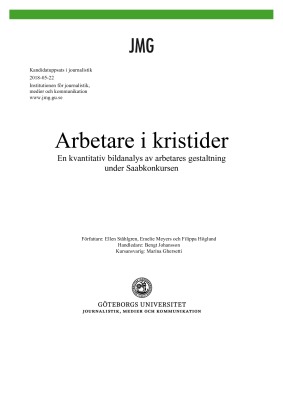 When the automobile company Saab applied for bankruptcy in December 2011 three thousand workers lost their job and income. It was a big disaster for the Swedish town Trollhättan where the unemployment numbers doubled overnight.
The crisis and bankruptcy was big news in Sweden. This study's purpose is to explore the portrayal of workers in media during this time using quantitative content analysis. A total selection of the images depicting Saab, published in the newspapers TTELA, Göteborgs-Posten and GT during December 2011, have been analyzed. The chosen newspapers all lie in the region of Västra Götaland where Saab is located.
With theories of framing and elite centralization the following questions have been answered and analyzed. Who are in the images depicting Saab's bankruptcy? Is there a difference between how workers and elites are being photographed? What type of location are workers versus elites photographed in? Are workers versus elites active or passive in the pictures?
The results showed that a majority of people in the images depicting Saab were elites like the CEO, politicians and trustees, while only 20 percent were workers. Elites were more likely than workers to have their power strengthened by photo perspective and location. They were also shown as being more active through emotions and by being photographed while working.
Ellen Ståhlgren, Emelie Meyers och Filippa Höglund
Journalist, Journalistikgranskning , vt18
Om arbetet finns tillgängligt som pdf är löpnumret klickbart. Om arbetet inte är tillgängligt som pdf kan du vända dig till
JMG:s expedition
, så kan du få hjälp med en papperskopia.